Indoor Air Quality Testing in Schools in NJ
ESMCorp services Schools, Colleges, and Municipalities  in New Jersey helping them solve many Indoor Air Quality issues.  Managing buildings that have multiple sites present complexities that typically include multiple HVAC styles and ages, varying room occupancy uses, and changing demand for thermal comfort.   ESMCorp often performs Indoor Air Quality Testing in Schools, Colleges, and municipalities in New Jersey.  They have always relied on our fast response during emergencies and our high level of professionalism.  Schools, Colleges, and Municipalities often have specific concerns or just need general peace of mind to confirm whether or not the buildings that they are responsible for are normal.
Many Schools, Colleges, and Municipalities present questions such as…
Are my buildings providing the correct amount of outdoor air?
Are there elevated levels of carbon monoxide in my buildings
How do I set the temperature to make all my employees happy?
Our boiler room just flooded, can you come out tomorrow?
Can you provide safety training to  our employees?
Can you help us investigate our employee's complaint?
CDC Releases New School Reopening Schools. 
The CDC released New School Reopening Guidelines.  These guidelines require that schools modify their HVAC systems to maximize outdoor air introduction, decrease occupancy density of classrooms and offices, and increase cleaning & disinfection of high touch surfaces.   We have provided our school district clients with these detailed assessments and modifications since the pandemic began. Below are the links to the most recent CDC publications regarding ventilation in schools and reopening.
Call Dr. Lynch today at (856) 764-3557 to discuss your specific district HVAC system and Indoor Air Quality Testing to meet these updated guidelines.
COVID Reopening HVAC Assessments
Enhanced Cleaning & Disinfection Protocol Development
Disinfection Verification Testing
Indoor Air Quality Testing for Occupants
COVID19 Technical Briefing with Stakeholders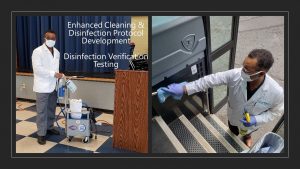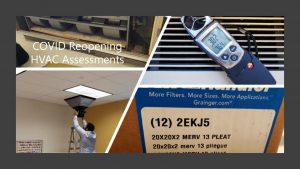 ESMCorp is highly qualified to answering your questions because getting to the root of the issue is what we specialize in.  Call ESMCorp [(856)764-3557] and we will be glad to have a conversation about your situation in detail.  We will ask you questions that will help us understand and narrow down the potential root issues and best testing protocol to meet your situation and budget. Indoor Air Quality Testing in Schools in New Jersey
ESMCorp will conduct Indoor Air Quality Testing in Schools in New Jersey.  Some Schools, Colleges, and Municipalities testing and monitoring that we perform are…
Post Disaster Management
Mold Testing & Mold Remediation Verification
Indoor Air Quality Testing
Industrial Hygiene, OSHA Compliance, and Risk Management
Health and Safety Testing
We utilize these testing methods, collect the data, and come up with a remediation guideline that will lead to your buildings to get back to normal.
If you have any questions about how we can help you, please fill out our contact form, call Dr. Lynch directly at (856) 764-3557, or email him at rlynch@esmcorp.com.
Thank you!