Chemical Hazard Risk Assessment and Exposure Monitoring
Large, medium and small Industrial/Manufacturing worksites employers have many obligations to ensure that workers are provided with a safe place to work, "free of recognized hazards" as well as to "comply with safety and health regulations promulgated" by OSHA, EPA, and other Federal and State agencies. ESMCorp is experienced in providing Certified Industrial Hygiene consulting and exposure assessments in Manufacturing, R&D, Metal Working, Biotech, Pharmaceutical, Cosmetics and Fragrances, Food Processing, Warehousing, and Recycling industries since 1992.
ESMCorp also can provide ES&H Management support for medium and small Industrial/manufacturing facilities or compliment your existing EH&S staff services. Call us today at 856-764-3557 or email rlynch@esmcorp.com to discuss your needs.
Chemical Exposure, Silica, Dust, and Metals Sampling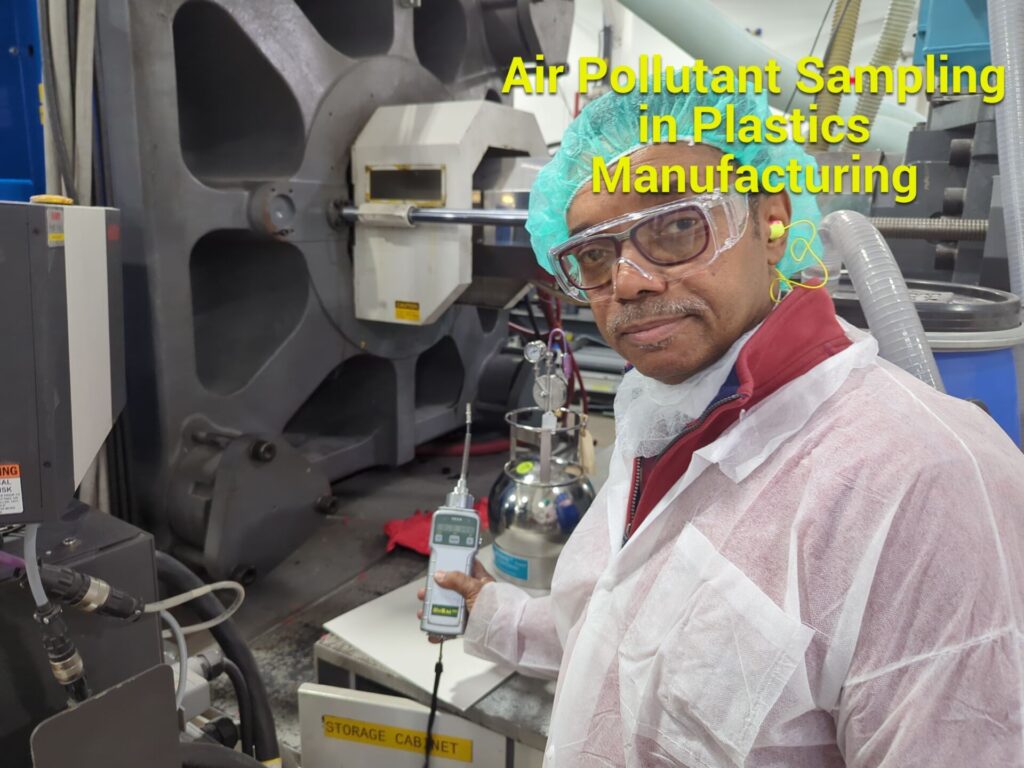 Chemical Exposure Monitoring
ESMCorp's Certified Industrial Hygiene experts conduct chemical exposure monitoring for gases, vapors, fumes, metals and dusts to determine OSHA compliance for compounds from A-Z including Acetone, Acids, Asbestos, Benzene and other solvents, Carbon Monoxide, Dust (respirable & total) Formaldehyde, Lead, Metal Dusts and Fumes, Mercury, Oil Mist, Phenol, Respirable Dust, Silica, Toluene, Xylene, Zinc, and other compounds for which OSHA, ACGIH, or NIOSH have published Workplace Exposure Limits. If you require chemical exposure assessments, please fill out our contact form or call Dr. Lynch directly at (856) 764-3557.
Respiratory Protection, Personal Protective Equipment & ES&H Management
ESMCorp can provide ES&H Management and program development support for our small to medium sized clients who do not have a full-time ES&H Professional on staff. We work with our client's Human Resources, Facilities, and Plant Engineering staff to draft, propose and create safety and health policies to help meet OSHA and other regulatory compliance needs. If you require respirator fit testing, PPE assessments or written programs, please complete the contact form call Dr. Lynch directly at (856) 764-3557, or email him at rlynch@esmcorp.com to discuss our Small Business Regulatory Compliance services.
Noise Monitoring
OSHA's noise standard and ACGIH's noise TLV are designed to reduce noise induced hearing loss among workers. ESMCorp provides, Noise Surveys, Noise Dosimetry, and Hearing conservation program development for large, medium and small Industrial/Manufacturing facilities. Please fill out our contact form or call Dr. Lynch directly at (856) 764-3557 to schedule and assessment.
Ergonomics Assessments and Coaching
ESMCorp has been providing Industrial Ergonomics for Manual Materials Handling, Assembly Lines, Lifting operations and other industrial operations since 1992. We utilize quantitative methods published by NIOSH, Liberty Mutual, ACGIH and others to assess ergonomic risk and recommend data-based solutions to our clients. Please fill out our contact form or call Dr. Lynch directly at (856) 764-3557.
Training
ESMCorp provides Hazard Communication, PPE, Chemical Hygiene, Chemical Spill Prevention and Response, and other OSHA regulatory required training to assist our clients with their compliance needs. Please complete the contact form or Call Dr. Lynch directly at (856) 764-3557 to discuss.